Opeens zag ik daar een persoonlijkheidstest. En nee, ik was niet aan het googelen op persoonlijkheidstesten en ik moet eerlijk zegen dat ik sowieso niet met dit onderwerp (en testen in het algemeen) bezig was. Maar toch kwam ik per toeval (lees: via via) deze test tegen. En in dit artikel vertel ik mijn ervaring en mijn persoonlijkheidstype (volgens de test).

De test gaat uit van 16 persoonlijkheden. 
Deze verschillende persoonlijkheden (/typen) zijn onderverdeeld in 4 categorieën:
1. analisten
2. diplomaten
3. schildwachten
4. ontdekkingsreizigers
Het invullen van de test duurt 12 minuten.
Voordat je aan de test begint staat er dat het belangrijk is om zo eerlijk mogelijk te antwoorden (zelfs als je het antwoord niet leuk vindt). Ook is het van belang om zo min mogelijk 'neutrale' antwoorden te geven.
Mijn ervaring: 
Sommige vragen vond ik lastig om te beantwoorden omdat ik het idee had dat ze op verschillende manieren geïnterpreteerd konden worden. Maar over all moet ik zeggen dat ik de test binnen de 12 minuten heb kunnen maken.
De vraag: 'U doet zelden iets uit nieuwsgierigheid.' vond ik lastig. Aangezien mijn nieuwsgierigheid het bij sommige situaties niet wint van de acceptatie dat ik er bijvoorbeeld niet naartoe hoef. Ik heb bijvoorbeeld niet echt veel last van FOMO (fear of missing out). Maar wanneer het gaat om verschillende smaken, of dingen die ik nog nooit heb gehad, dan vind ik het leuk om weer iets nieuws te proberen. Het ligt in dit geval dus maar net aan de situatie. Van nature ben ik nieuwsgierig aangelegd, maar of ik er echt naar handel is een andere vraag. Ik zoek in ieder geval veel dingen op en ik vind het dan ook leuk om dingen verder te onderzoeken.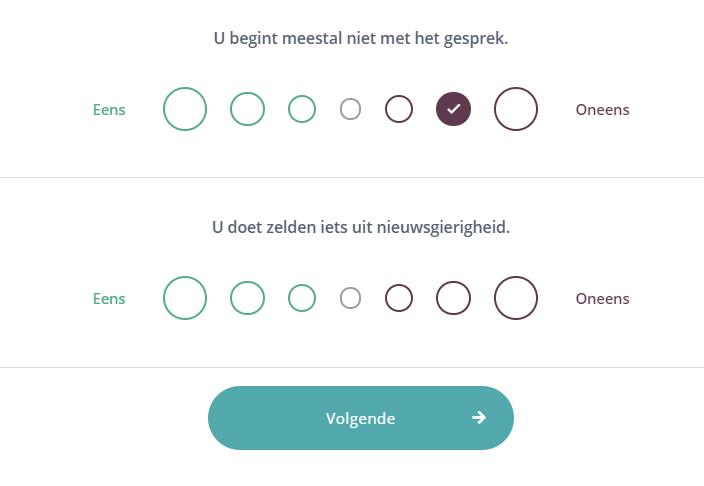 De test is ontzettend persoonlijk, maar toch leek het me leuk om mijn uitslag te delen.


Achteraf: 
Meestal ben ik een beetje sceptisch als het om testjes gaat. Maar deze test schijnt best bekend te zijn en ik moet zeggen dat ik positief verrast ben. De vragen waren niet sturend en ik kon de test erg eerlijk beantwoorden. Ik hoefde niet lang na te denken en heb de test zo realistisch mogelijk naar eigen inzicht ingevuld. Ook moet ik zeggen dat ik me wel kan vinden in de uitslag. Ik ben eens bij een nummeroloog geweest en hij vertelde me dat mijn hoofdkernwaarde rechtvaardigheid en eerlijkheid was. Ik heb altijd het idee gehad dat ik dingen snel doorheb en vroeger vond ik dit vaak moeilijk. Dan zag ik verschillende intenties of dubbele bedoelingen van mensen en wist ik niet hoe ik hier mee om moest gaan. Nu heb ik daar mijn eigen weg in gevonden. En ik vind het mooi dat een test je een samenvatting over je persoonlijkheid kan geven. Toch wil ik tegen iedereen die deze test gaat maken wel zeggen: 'neem het allemaal niet zwart of wit', uiteindelijk blijft het een 'test', maar het is wel zeker interessant!
Hieronder kun je voor wie dat leuk vind meer lezen over mijn persoonlijkheidstype.
(Het eerste deel is in het nederlands en het 2e deel is in het engels, het is wel een ontzettend lang stuk maar ik heb er voor gekozen om toch de hele uitslag te delen. Zo heeft iedereen ook een beetje een idee hoe zo'n uitslag eruit kan zien.
De test kun je zelf maken op: https://www.16personalities.com/
"Advocaat" persoonlijkheid
Deze persoonlijkheid is zeldzaam en maakt minder dan een procent van de bevolking uit. Ze drukken echter toch een stempel op de wereld. Ze hebben een aangeboren gevoel voor idealisme en moraal, maar wat hen onderscheidt van andere idealistische persoonlijkheden is hun daadkracht en vastberadenheid – Advocaten zijn geen luie dromers, maar mensen die concrete stappen kunnen ondernemen om hun doelen te bereiken en blijvend een positief verschil kunnen maken.
Advocaten hebben de neiging om het helpen van anderen te zien als levensdoel, maar terwijl mensen met dit persoonlijkheidstype boeiende reddingspogingen en liefdadigheidswerk kunnen doen, ligt hun echte passie in het tot de kern van de zaak komen, zodat anderen helemaal niet meer gered hoeven te worden.
Help me jou te helpen
Advocaten beschikken over een zeer unieke combinatie van eigenschappen: hoewel ze met vriendelijke stem spreken, hebben ze uitgesproken meningen en zullen ze onvermoeibaar vechten voor een idee waarin ze geloven. Mensen met deze persoonlijkheid zijn beslist en hebben een sterke wil, maar gebruiken die energie zelden om er zelf beter van te worden. Advocaten handelen met creativiteit, verbeelding, overtuiging en gevoeligheid – niet om voordeel te halen, maar om dingen in balans te brengen. De leer van algehele gelijkheid en karma zijn zeer aantrekkelijke concepten in de ogen van de Advocaat, en ze hebben de neiging om te geloven dat niets de wereld zo zou helpen als het gebruik van liefde en mededogen om de harten van tirannen te verzachten.
Ieder mens moet beslissen of hij zal wandelen in het licht van het creatieve altruïsme of in de duisternis van destructieve zelfzucht.
Advocaten vinden het makkelijk om contact met anderen te leggen en hebben een talent voor warm en gevoelig taalgebruik, het spreken in menselijke termen, in plaats van pure logica en feiten. Het is logisch dat hun vrienden en collega's ze relatief sociale persoonlijkheden vinden, maar ze zouden er goed aan doen te onthouden dat Advocaten tijd voor zichzelf nodig hebben voor ontspanning en opladen, en ze moeten niet teveel schrikken als ze zich plotseling terugtrekken. Advocaten besteden veel aandacht aan de gevoelens van anderen, en ze verwachten dat ook van anderen – soms betekent dit dat je ze een paar dagen met rust moet laten.
Leven om nog een dag de strijd aan te kunnen gaan
Het is echter wel belangrijk dat de Advocaat ook eraan denkt voor zichzelf te zorgen. De passie van hun overtuiging kan ze goed voorbij het breekpunt brengen, maar als hun enthousiasme te ver gaat, kunnen ze zichzelf uitputten, gestrest raken en hun gezondheid verwaarlozen. Dit wordt vooral duidelijk wanneer de Advocaat kritiek en conflictsituaties te verduren krijgt. Hun gevoeligheid dwingt ze alles te doen waar ze toe in staat zijn om deze schijnbaar persoonlijke aanvallen te ontwijken, maar wanneer de situatie onvermijdelijk is, kunnen ze vaak op een irrationele en niet-constructieve manier terugvechten.
Voor de Advocaat is de wereld een plek vol ongerechtigheid – maar dat hoeft ze niet te zijn. Geen enkel ander type persoonlijkheid is beter in staat om een beweging te creëren om iets dat krom is weer recht te maken, of dit nu klein of groot is. Advocaten moeten wel in de gaten houden dat ze ook voor zichzelf moeten zorgen terwijl ze de last van de wereld op hun schouders nemen.



Strengths & Weaknesses
Advocate Strengths
Creative – Combining a vivid imagination with a strong sense of compassion, Advocates use their creativity to resolve not technical challenges, but human ones. People with the Advocate personality type enjoy finding the perfect solution for someone they care about. This strength makes them excellent counselors and advisors.
Insightful – Seeing through dishonesty and disingenuous motives, Advocates step past manipulation and sales tactics and into a more honest discussion. Advocate personalities see how people and events are connected. They are then able to use that insight to get to the heart of the matter.
Inspiring and Convincing – Speaking in human terms, not technical, Advocates have a fluid, inspirational writing style that appeals to the inner idealist in their audience. Advocates can even be astonishingly good orators, speaking with warmth and passion. This is especially true if they are proud of what they are speaking for.
Decisive – Advocates' creativity, insight, and inspiration are able to have a real impact on the world. This is because they are able to follow through on their ideas with conviction, willpower, and the planning necessary to see complex projects through to the end. People with the Advocate personality type don't just see the way things ought to be; they act on those insights.
Determined and Passionate – When Advocates come to believe that something is important, they pursue that goal with a conviction and energy that can catch others off-guard. Advocates will rock the boat if they must. Not everyone likes to see this, but their passion for their chosen cause is an inseparable part of the Advocate personality.
Altruistic – These strengths are used for good. Advocates will not engage in any actions or promote beliefs just to benefit themselves. They have strong beliefs and take the actions that they do because they are trying to advance an idea that they truly believe will make the world a better place.
Advocate Weaknesses
Sensitive – When someone challenges or criticizes Advocates' principles or values, they are likely to receive an alarmingly strong response. People with the Advocate personality type are highly vulnerable to criticism and conflict. Questioning their motives is the quickest way to their bad side.
Extremely Private – Advocates tend to present themselves as the culmination of an idea. This is partly because they believe in this idea, but also because Advocates are extremely private when it comes to their personal lives. They use this image to keep themselves from having to truly open up, even to close friends. Trusting a new friend can be even more challenging for Advocates.
Perfectionistic – Advocate personalities are all but defined by their pursuit of ideals. While this is a wonderful quality in many ways, an ideal situation is not always possible – in politics, in business, in romance. Advocates, especially Turbulent ones, too often drop or ignore healthy and productive situations and relationships, always believing there might be a better option down the road.
Always Need to Have a Cause – Advocate personalities get so caught up in their pursuits that any of the cumbersome tasks that come between them and their ideal vision is deeply unwelcome. Advocates like to know that they are taking concrete steps toward their goals. If routine tasks feel like they are getting in the way – or worse yet, there is no goal at all – they will feel restless and disappointed.
Can Burn Out Easily – Their passion, impatience for routine maintenance, idealism, and extreme privacy tend to leave Advocates with few options for letting off steam. People with this personality type are likely to exhaust themselves in short order if they don't find a way to balance their ideals with the realities of day-to-day living.
Romantic Relationships
"Love comes more naturally to the human heart than its opposite."
When it comes to romantic relationships, Advocates take the process of finding a partner seriously. Not ones for casual encounters, people with the Advocate personality type instead look for depth and meaning in their relationships.
Advocates will take the time necessary to find someone with whom they truly connect. Once they've found that someone, their relationships will reach a level of depth and sincerity of which most people can only dream.
Getting to that point can sometimes be a challenge for potential partners, especially if they are impatient types, as Advocates are often perfectionistic and picky. People with this personality type aren't easily talked into something they don't want. If someone doesn't pick up on that, they are unlikely to be forgiven, particularly in the early stages of dating.
Even worse is if their partner tries to resort to manipulation or lying, as Advocates will see right through it. If there's anything they have a poor tolerance for in a relationship, it is a lack of authenticity.
Is This for Real?
Advocates will go out of their way to seek out people who share their desire for authenticity, and out of their way to avoid those who don't, especially when looking for a partner. All that being said, people with the Advocate personality type often have the advantage of desirability. They are warm, friendly, caring, and insightful, seeing past facades and the obvious to understand others' thoughts and emotions.
One of the things Advocates find most important is establishing genuine, deep connections with the people they care about.
Advocate personalities are enthusiastic in their relationships. There is a sense of wisdom behind their spontaneity, allowing them to pleasantly surprise their partners again and again. These types aren't afraid to show their love, and they feel it unconditionally.
Advocates create a depth to their relationships that can hardly be described in conventional terms. Relationships with Advocates are not for the uncommitted or the shallow.
When it comes to intimacy, Advocates look for a connection that goes beyond the physical. They prefer to embrace the emotional and even spiritual connection they have with their partners. People with this personality type are passionate partners.
Advocates see intimacy as a way to express their love and to make their partners happy. They cherish not just the act of being in a relationship, but what it means to become one with another person in mind, body, and soul.
Friendships
"The most I can do for my friend is simply be his friend."
There is a running theme with Advocates, and that is a desire for authenticity and sincerity – in their activities, their romantic relationships, and their friendships. People with the Advocate personality type are unlikely to go for friendships of circumstance. They avoid situations like workplace social circles or chatting up their local baristas, where the only thing they really have in common is regular contact.
People with this personality type seek out others who share their passions, interests, and beliefs. They create friendships with people with whom they can explore philosophies and subjects that they believe are truly meaningful.
Closed Book and Speed Reader
From the start, it can be a challenge to get to know Advocates, as they are very private. Advocate personalities don't readily share their thoughts and feelings, not unless they are comfortable and feel that those around them can be trusted. Since those thoughts and feelings are the basis for Advocate friendships, it can take time and patience to get to know them.
Meanwhile, Advocates are very insightful and have a particular knack for seeing beyond others' disguises. They are able to interpret others' intentions quickly and easily and weed out those who they deem incompatible.
In friendship, it's as though Advocates are searching for a soulmate, someone who shares every facet of their passions and imagination.
Advocates are often perfectionistic, looking for ultimate compatibility. They also look for someone with whom they can grow and improve. Needless to say, this is a tall order, and Advocates should try to remember that they are a particularly rare personality type. Even if they find someone compatible in that sense, the odds that they will also share every interest are slim.
Advocates must learn to meet others halfway and recognize that the kind of self-improvement and depth they demand is simply exhausting for many types. Otherwise, they may end up abandoning healthy friendships in their infancy in search of more ideal compatibilities.
Like Finding a Needle in a Haystack
Further complicating things is Advocates' ability to passionately and clearly express themselves. These traits can lead to a lot of (unwanted) attention and popularity. Their quiet, determined idealism naturally draws influence. Advocate personalities, however, tend to avoid seeking power over others – and the people who are drawn to that type of power.
Advocates will find themselves more sought after than they'd ever care to be. This makes it even more difficult for them to find someone with whom they truly have an affinity. Really, the only way to be counted among Advocates' true friends is to be authentic and to have that authenticity naturally reflect their own.
Once a common thread is found, though, people with the Advocate personality type make loyal and supportive companions. People with this personality type encourage growth and life-enriching experiences with warmth, excitement, and care.
Additionally, as trust grows, Advocates will share more of what lies beneath the surface. If those ideas and motives are mutual, it's the sort of friendship that will transcend time and distance, lasting a lifetime.
Advocate personalities don't require a great deal of day-to-day attention. For them, quality trumps quantity every time. Over the years they will likely end up with just a few true friendships, built on a richness of mutual understanding that forges an enduring link between them.